Everyone wants a Mask of Uroboros. In video games, there are always things that look really cool but don't seem to exist in real life. Why can't we have potions that heal us from the ground up, big buster swords, and magical powers that save us from the end of the world? Why can't we do it if Geralt, Cloud, Kratos, and pretty much every other character can? This is about all the interesting things in The Witcher 3, in particular.
This is all about the weapons and other things we wish we could use every day. Anyone who uses a Witcher's sword will feel like a full-fledged monster hunter, but there are some things that would make our lives better.
Books On The Worlds History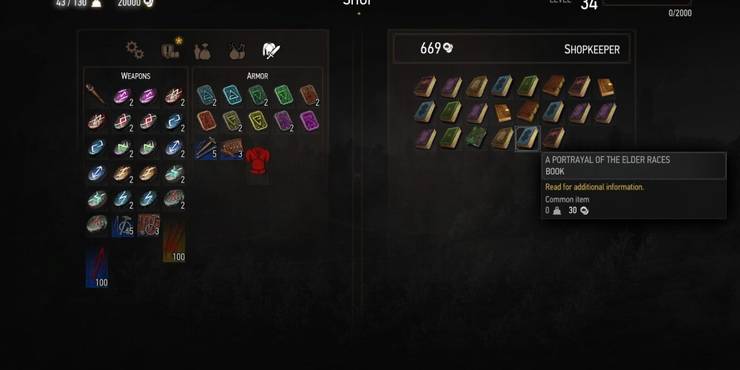 Many of you probably ignore the hours of information in books because you'd rather fight the next enemy. But think about how good it would feel to read long books set in the world of The Witcher 3 when you need something to do.
At the moment, the closest thing you can get are licensed books like this one that talk about everything about Gwent. However, a series of novels about different parts of The Witcher, such as the politics and races, would be a surefire hit.
The Drinks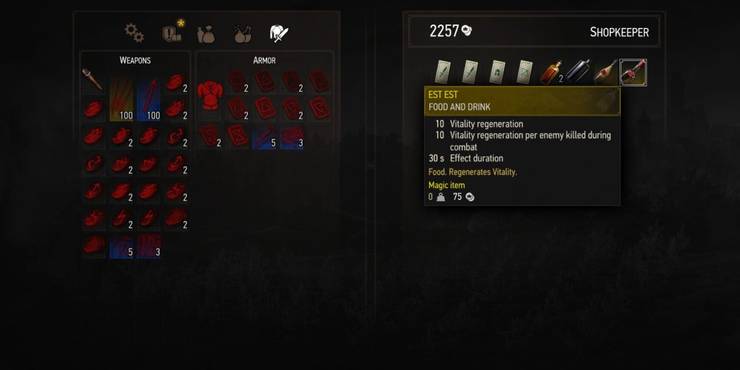 Even if you don't like alcoholic drinks, you can't deny that the pictures of these drinks look delicious. Everyone, from dwarves to elves to humans, likes beer and mead. You can't go far in this world without seeing someone with one of these drinks in their hand.
Because wine is harder to find and is usually saved for special occasions, you are more likely to find beer than wine. For one thing, people really like Toussaint wine, which is a classic red wine that is said to taste great.
Monster Mutagens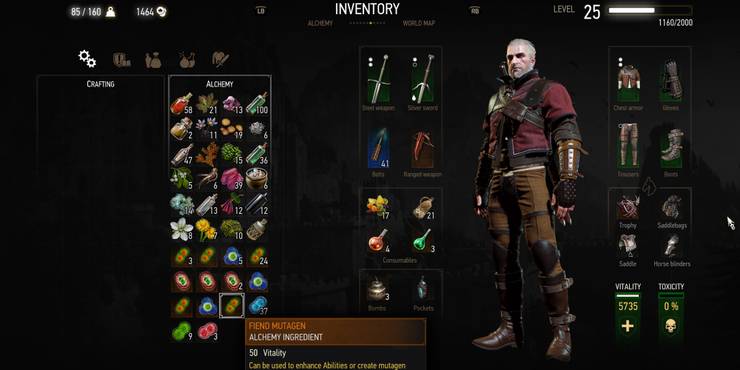 Since a Witcher's life is said to be hard and lonely, it's best not to know how people will use mutagens on themselves. Instead of focusing on the pain, think about how useful these monster mutagens are. Those that gave us sign-up bonuses wouldn't help us with anything, but those that made us healthier could help us with a lot of things.
If you cut yourself on a piece of paper (and you know how painful that is), the extra energy could help the wound heal faster.
Magic Lamp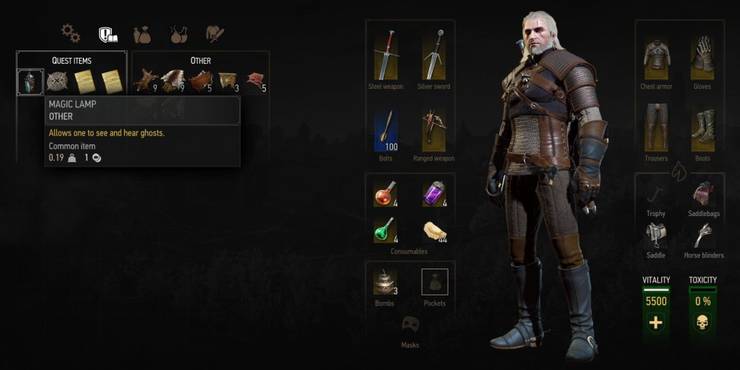 The magic lamp gives off a blue light and has a bronze design that covers part of its outside. It can also see through the veil between life and death, which lets the person using it see and talk to spirits. But the use isn't clear, so it's not a sure thing that it will work.
The lamp could let you talk to or see past memories of people you've lost. It could also be used in a number of other ways to directly experience the past.
Mask Of Uroboros
The Mask of Uroboros is almost like a different version of the magic lamp. Instead of seeing the pasts of dead people, you can see the pasts of living people. The problem is that it only works once, so you can't use it again no matter how hard you try.
Choosing the right time to use this magical item will be a difficult task that will put pressure on the owner, but at least you'll have an ancient tool in the time before you use it.
Megascope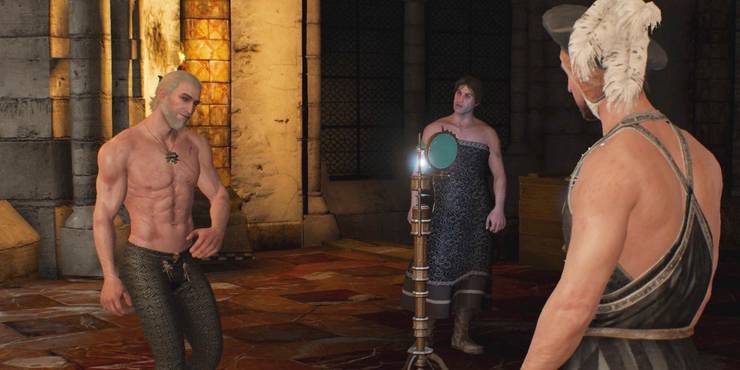 A Megascope is a magical tool that lets people talk to each other from far away, as long as both sides have one. Even though we already have the technology to make phone calls and video calls, what's a better choice? ​​​​​​​
Is it to talk to people through a black rectangle that most people on Earth have, or is it to talk to your friends through a magical object that is rarer than a pure diamond? There's no comparison between the ordinary phone and the magical object powered by a crystal.
Zireael Sword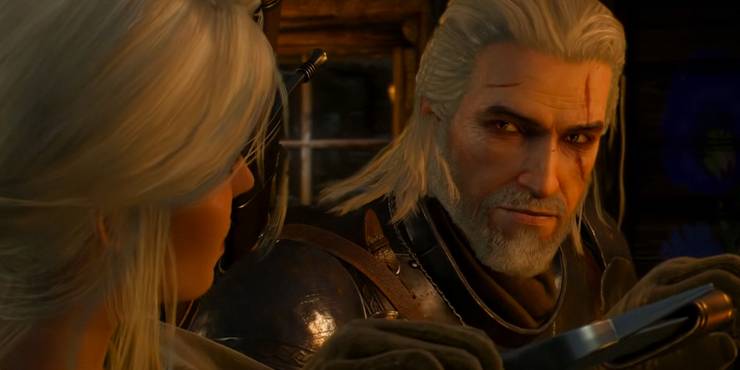 The only time you see Ciri's Witcher sword with the word "Zireael" on it is at the end, when she survives The White Frost and decides to become a Witcher. During the last mission, Geralt goes to a Blacksmith to get this weapon. And then brings it to Ciri, who is waiting in a nearby tavern.
A close-up shot of the sword is the only time you see it again. You can't use it in Happy Wheels game either. As a compromise, wouldn't it be fun to have this glowing sword in real life. So you could show it off and gush about it whenever you saw it?
Witcher Swords And Armor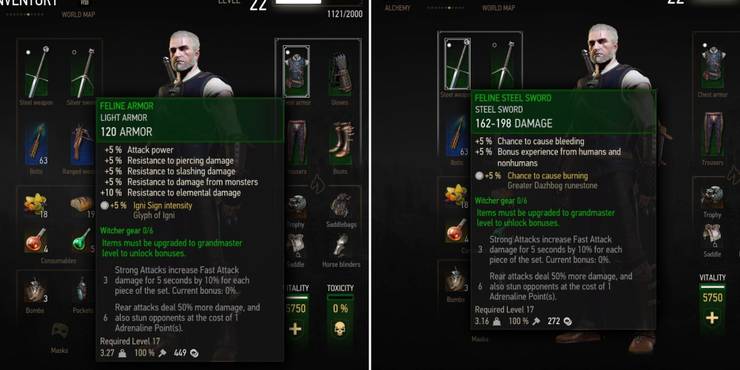 The best overall protection comes from using swords and armor from the same school. This is why Witcher sword and armor sets are the best. If you have the whole Feline, Ursine, Wolvern, Viper, or any other set, you will get a bonus in combat for having between three and six pieces.
With a full arsenal of weapons and armor, any of these things will help you defend yourself and keep you safe from the harsh weather. Not only that, but they also look good, with designs that are unique to each school. When you wear these sets, you'll look very handsome in real life.
The Various Potions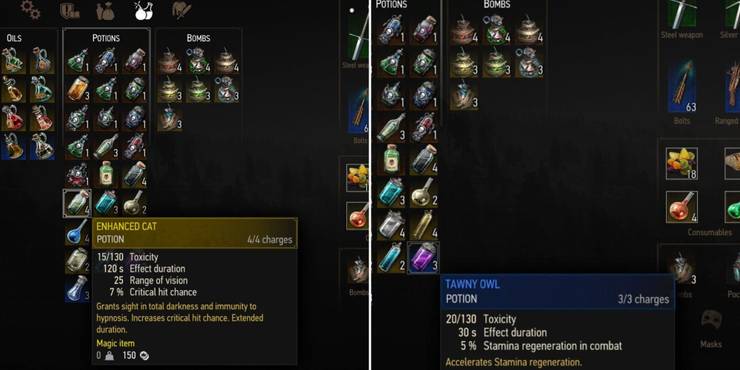 No matter what, it's never a good idea to drink something strange. However, with the Witcher potions, it might be worth taking a chance. There are a lot of potions that make it easier to get through the day. For one thing, Cat lets you see in the dark, which is a pretty good thing given how much electricity costs these days.
Golden Oriole makes you immune to poisons. If you get bit by something poisonous, you won't have to go to the hospital. Swallow is used to restore health, while Tawny Owl is used to restore stamina faster. If you drank the potion, you might get sick or even die. But there's always a small chance it might work.